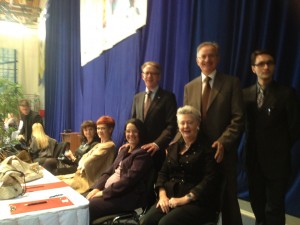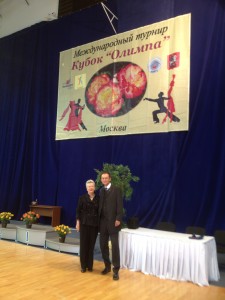 Last night we had a dinner for the judges and given details about the event today. Had an enjoyable time and my friend, Michelle , who is France's representative judge ,arrived in time for a quick catch up. It is nice to see her  again ; we are the only judges who do not speak Russian , so it is very much the blind leading the blind ! Rom is also judging for Holland so it was nice to see him again.
Well off to a great start ! Picked up from the hotel at 9. 20am and coached it to a very big sporting complex which is just about next door to the hotel. It has many medium sized ballrooms and  the event was held in 2 rooms.
The events were all very well supported with the juveniles having approx 150 couples. The juniors about 100 and the Youth about 60. The standard of dancing was very good and certainly the judging was excellent  !   or so we all said on the coach on the way home.  !
The lighting and music was excellent as usual, and the floor was a perfect size and surface. The lady compere is very good but the announcements are only in Russian so we have to be on our toes., as in Waltz ?
The ballroom dancing scene is so similar world wide ; if no body spoke today , we could be anywhere in the world. Same music and  atmosphere, couples dressed the same, judges in the same spot, organisors hovering in the background, trophies prominently displayed, photographers dodging about and the mums……oh dear…..the mums…   it is wonderful that mums will always be mums…what would the dancing world be like without them.Cheering, spraying, brushing shoes and hair, applying make up and dare  say sometimes very nearly coaching    ! .One smell that was pleasantly missing today was the smell of third hand tan.. if you know what I mean.
The hospitality was great and Tatyana , the organisor, was very helpful and  everything ran very smoothly.
I did another interview with a TV channel , they promised me a copy of it , I have done a few interviews and never can manage to get a copy of them .. oh well  I will just stick to modelling……that IS the real thing  !
AND YES  the sun does shine in Moscow ( when I have to be indoors ). Today it was a beautiful sunny day , Ash went downtown on the metro and had a great time . I think I drove him mad with my text's  '  " Where R U  now ?  "
Well must go and get organised for tomorrow.  Pick up again at 9.20am…….that's 1.20pm in Perth.
Take care everyone
Love from Sunny Moscow.
Daele