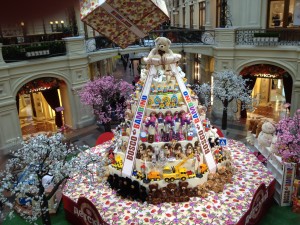 A bit chilly in Moscow today: Overcast and drizzled half the day but that did not stop us from visiting Red Square. The Kremlin was closed so heading back there tomorrow.  Ashley took 569 photos  which I tried to avoid starring in as I just had to put on the famous mink cap! Brrrr.
Just by coincidence Russian Fashion Week commenced today in Moscow, 200 meters from the Red Square and 2 scouts from  the Milan agency " Next" begged me to sign up with them . Ash is now my manager and is working hard for his 10% Lunched at Gum Store which is fab. Walked up Old Arabat Road and did not buy much today.
Ash has had a lucky day today which is most probably the result of being pooed on TWICE in the Summer Gardens in St Petersburgh on Monday. True story. Olya can confirm 🙂
Must go and have dinner  as have to be in make up by 7am to be on the catwalk at 10am.
Look for me on Fashion TV. До свидания!
(Goodbye) Daele  and Ash