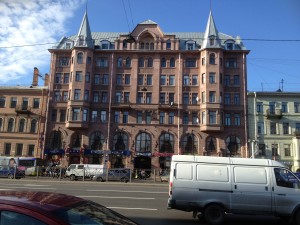 Yes a great day but these photos drive me crazy….. I will get a five out of ten from CV for this effort…. I am already in trouble for doing too many dots ………………………….. !
The breakfast is  fantastic,we had a long and rather slow start but then we were off . The buildings are really beautiful and the parks and trees are well kept and are very pretty and colourful
The weather was a bit chilly(1 degrees so PC messaged us ,) but the sun was shining brightly and it did not rain . Changing Aussie dollars to Roubles is always a problem : but having done that we were off down the main street which is the same street as our hotel. Found a nice souvenir shop and then went on to 2 great shopping centres :Stoneway and Galleria where we bought souvenirs and i bought a new black scarf. My shopping is going to be somewhat limited with Ash,.. you hafta move fast unless it is a watch shop . Walked a long way in and out of little courtyards and markets and had a lot of fun talking to people who don't speak english. Some are grumpy but most of them were really nice. Came back to the hotel about 4.30pm  and got ready to go the WDSF Competition. Hired a  hotel limo to drop me and picked me up 9pm. The competition was at a nearby hotel and I caught up with 2 judges whom I know . The dancing was very good ; all open events in Juvenile, Junior and Adult in both Latin and Standard.
Been home for 40 minutes and have had the bomb. Checked on Ash and planned our day tomorrow.
Meeting an old pupil from DFDS for breakfast and then off to see the sights.
Goodnight from St P
Daele