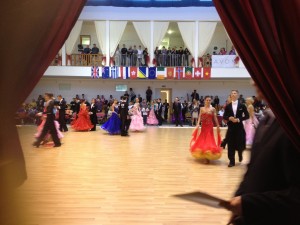 Thanks to everyone who came to our Party Night last week.A real dance down memory lane when one of our couples danced their bridal waltz I taught them 13 years ago as a special anniversary floorshow. Well done……and after 13 year practice  you were much improved. !  !
We will be commencing a new Beginners A class as soon as I return so contact the studio if you want to enrol
I leave tomorrow night and our "friends" have moved in already. It is not surprising that I am developing a complex : with the DFDS staff smiling more than ever and the family offering to help me pack…………… Oh well The new video cameras I have installed will sort them out later.
I am judging in Moscow at the WDSF Olymp Cup and also attending a competition in St Petersburgh if  we arrive in time.
I hope to blog from St P ……Chris gave me a 7 out of 10 for my Hungarian effort ,. so I am aiming for at least a nine.
Take care everyone
Daele