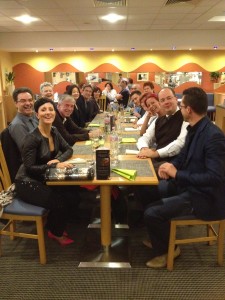 Hi Everyone from sunny Szeged,
The weather is just lovely once more. Sorry about the damn photo….but I am sure Chris will get onto it and put it the right way up. He did tell me how to do it but I wasn't listening and he did not write it down.  !  !  Have some more photos of the dinner but will try to sort them out.
Anyhow had a nice walk around the city and a quick trip on the Tisza River and then another Hungarian hairdo……not too bad.
The WDSF adjudicators met at 8pm for a briefing and then a dinner at this hotel. It's great when everything is at the same venue ,,saves being coached everywhere.
I always really enjoy catching up with other judges from different countries,just discussing dance in general,  not the Championship of course. Had a five course meal and lots of fun
We have a late start tomorrow and depart from the hotel at 11am,   I think it is about a 30 minutes drive to Kistelek.
Must go and do a bit more packing and the damn font is driving me crazy
Take care and more tomorrow night…….I hope  !
Love from Szeged
Daele x…………………………………..Ps   I am OVER the photos