With The WDSF Ten Dance Championship commencing on Thursday time is running out for my Russian shopping , so today we had a very busy time and walked ( once again ) for miles and miles. Found some great souvenirs and Sonia,Bema and Gulya were very helpful and the shot of Vodka really enhanced our purchases.. Thanks girls. ! It is still very very cold outside but really comfortable inside. The hotel has a limousine service so we use that instead of taxis, : much easier and quicker.
Chris says I should be getting in the dance mode instead of thinking about the 3 S's…. shopping sightseeing and souvenirs !
So   123,  123 ,  and Cha Cha Cha     and Slow,Slow, Quick, Quick, Slow  !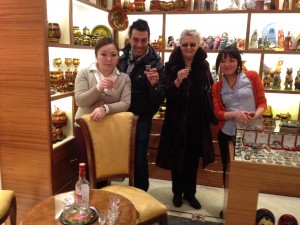 Goodnight with love from Russia